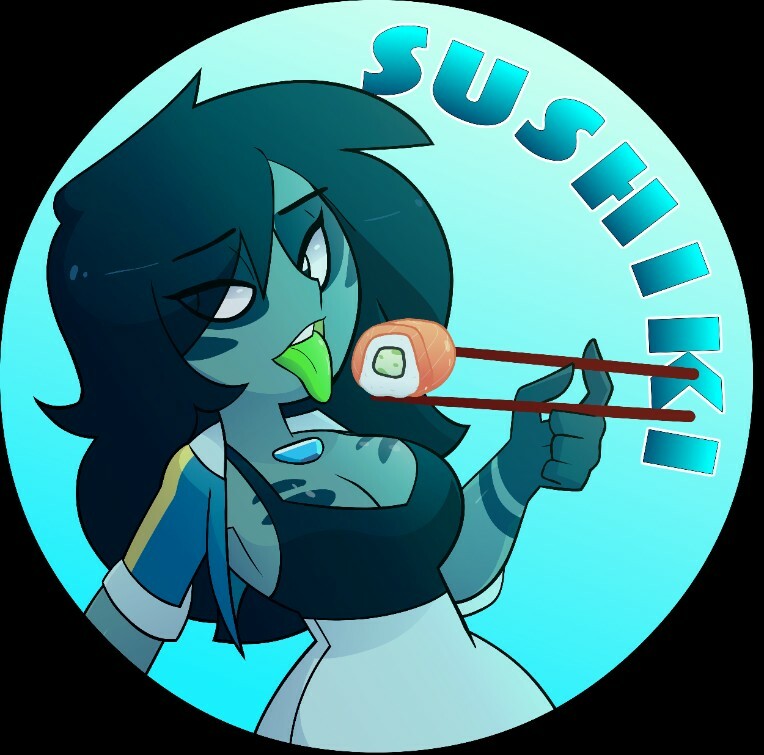 To those of you new here, this Newgrounds page was formerly called BlueApatite, in reference to a gem character named Apatite, who was part of a team/story of characters called the Pebble Rebels, based on the world of Steven Universe. Now the show has ended and it's time for us all to move forward to the future!
For the last 4 - 5 years I've been creating NSFW art and posting them on social media through the character of Apatite (aside from this website), but it got hard to see myself as having an identity as an NSFW artist so now with this new re-branding opportunity things may become a bit easier in that regard. I now have a new name, a brand new look, and a whole new array of content to play with, rather than being limited to Apatite's lewd adventures and the occasional side stories.
As you may have noticed ... I have a bit of a fixation on the color blue and SUSHI. I wanted the new page to reflect how much I enjoy those things (among my love for boobs lmao) so I spent literal WEEKS trying to come up with a good name that hasn't already been taken. It was hard to come up with a name that perfectly sums up my love for boobs, the color blue, and sushi, all into one perfect word ... but there is no such word so I settled on a word that was easy and fun to say but also good for marketability purposes.
I've also been informed that this new icon feels as if Apatite herself had opened up a lewd-themed sushi bar, much like the creators of Femboy Hooters or Milf IHOP, so maybe in the near future I'll be playing with some ideas like that just for the hell of it lmao
The Patreon page has undergone a few changes as well. Most tiers have been removed and replaced with some brand new ones (some prices have been altered as well as the rewards you can collect, so you guys may have to re-pledge and decide what you're willing to spend each month). These changes should make things easier as we go, giving myself a bit of breathing time in between requests as well as coming up with more fresh material for myself to enjoy as well, cus what would art be if I myself didn't have fun with it? 
The page is still undergoing a few changes, so you may notice that things won't exactly be back to normal yet, but I am planning on having everything sorted out by the end of the month. I'm still planning on moving out with my girlfriend by the beginning of August so the increase in prices will help in aiding the purchase of a new car, and the pause for the month will also give me time to make things ready for y'all when we return. (I'm also gonna be doing a set of commissions this month as well as selling adoptables, so hopefully those make up for the silence until then) 
Don't worry, its still me! You may still refer to me as Apa or RoFlo or any other name you may know me as. Sushiki is just gonna be a new name for myself in the NSFW artist community so I'm not going around as 'Apatite' anymore, and RoFlo is mainly gonna be reserved for close friends or anything related to my SFW material, so I wanna try and keep them separate as best as I can in case I get hired to work on a kids cartoon some day (lmao)
There will be some changes in characters as well, such as who is now available to be lewded and what other kinda stuff we may see around here, but rest assured there are no major changes that will get in the way of the stuff you've all come to love around these parts. The main plan is to make a fresh new name for myself for the future and also have time to produce better content as well as producing my own content on the side. If anyone has questions feel free to send me a message or comment down below. 
In the meantime, feel free to take a look at the new Patreon tiers and see which ones suit your needs best, and hopefully by the time we return things will go back to normal and we'll all have a great time :D 
Enjoy your stay :D